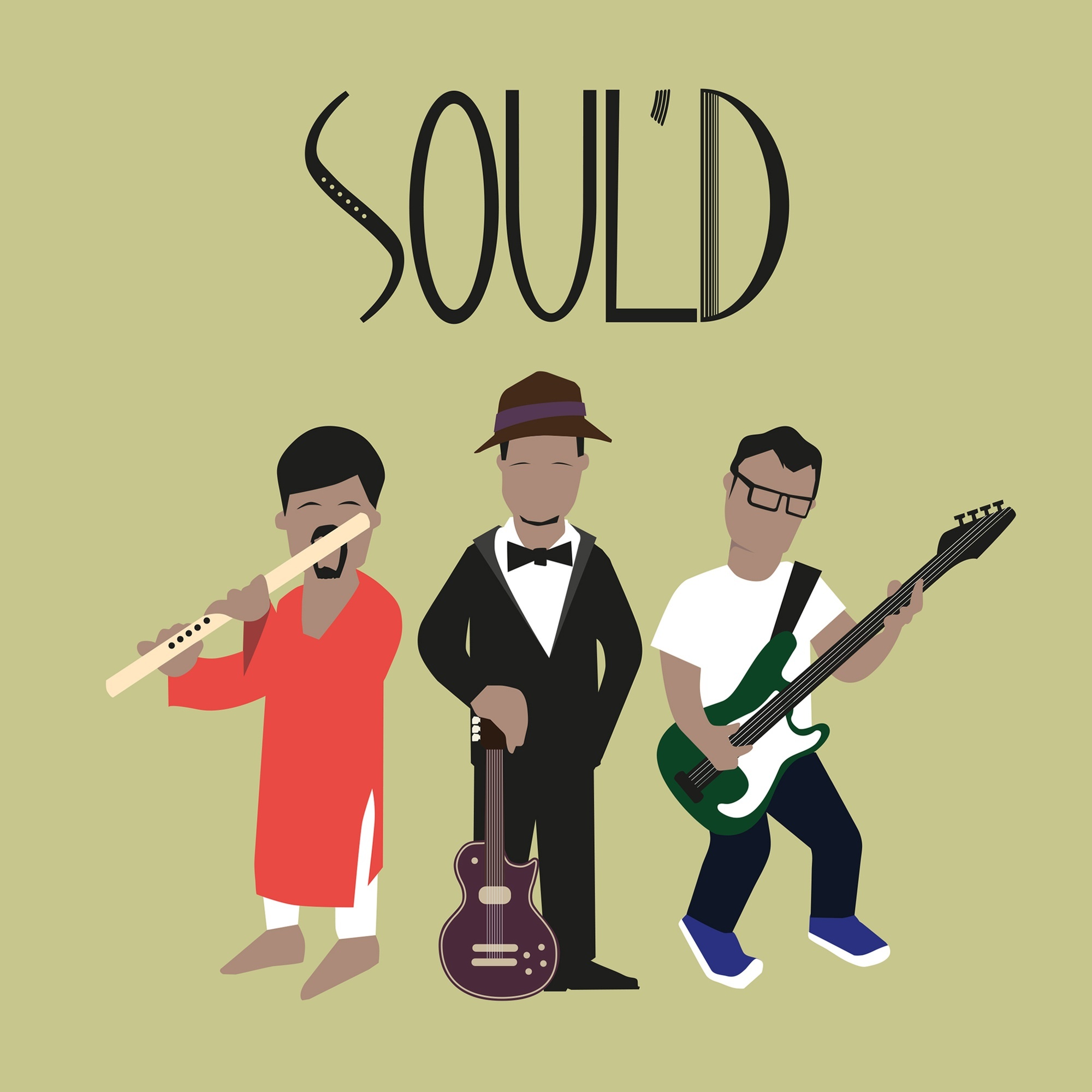 INFO BOX
GROUP: Soul'd | STYLE: Smooth Jazz / Funk | PUBLISHER: Arun Shenoy Music Publishing (BMI)
Discography
Singles
TITLE: Soul'd | ARTIST: Soul'd | YEAR: 2014 | PUBLISHER: Arun Shenoy Music Publishing (BMI) | LABEL: Narked Records
BANSURI FUNK,
the stylistic term introduced by Soul'd now officially in the
Urban Dictionar
y
×
ABOUT
What do you call a song that crosses Funk with Smooth Jazz, while also turning traditional instrumentation on its ear?
Presenting "Soul'd" the debut single by the Funk/Smooth Jazz trio of the same name. Soul'd, the band, features GRAMMY®-nominated composer and producer Arun Shenoy on guitar, internationally-acclaimed flautist Ravichandra Kulur, and groove master Duke Purisima on bass.
Kulur, an in-demand flautist who performed extensively with the late Pandit Ravi Shankar and daughter Anoushka Shankar, coaxes a whole new sound out of his Indian classical flute, which takes the place of the saxophone or trumpet leads normally heard in Smooth Jazz.  Another favourite of Shenoy's, GRAMMY®- nominated arranger Don Hart has teamed up with the trio for the live horn orchestration in Nashville.
Listening to final mixes inspired the stylistic term "Bansuri Funk", referring to the trio's innovative jazz/funk approach combined with the traditional Indian bamboo flute, the Bansuri.
The names Shenoy, Purisima and Kulur may ring a bell among World Fusion fans, as the three artists collaborated on Shenoy's "Bliss", an Indian World Fusion single that was launched by the Recording Academy via a worldwide "Exclusive First Look" feature at GRAMMY.com in 2013.
Following the release of the eponymous debut single (Narked Records, 2014), the band has announced plans for a full length follow up album. The music is also the label's official submission for the 57th Annual GRAMMY® Awards.
MUSIC SHOWCASE
ARTIST LINKS